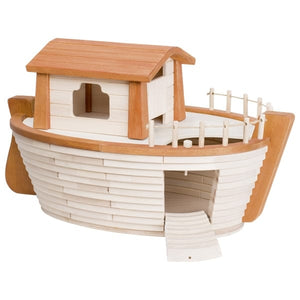 This listing is for the pre-order of the Holztiger Noah's Ark - 25% non-refundable deposit.
Once the product is available and ready to ship, customers are required to pay the remaining 75% prior to shipment. For an estimated timeline, please contact us prior to purchase. Otherwise, ETA can range from a couple weeks to several months. 
Current Retail Price: $1038 (2021 SRP)

This listing is for the 25% non-refundable deposit: $259.55 plus applicable taxes
Remaining 75%: $778.65 plus applicable taxes
Oversized shipping: $20 plus applicable taxes - in event shipping exceeds $40 dollars, we will include the shipping overage in your final 75% payment. For an estimate, please contact us prior to purchase.
One beautiful wooden ark. Animals sold separately.
Noah's ark includes the boat, removable cabin & deck, and attachable stick to wheel the ark. 
Knots and grains add to its unique look - no two ark are the same. 
Holztiger toys are handcrafted throughout Europe and made from maple and beechwood, hand painted with non toxic, water-based dyes and finished off with a water-based finish - making them resistant to perspiration and saliva. Explore our collection of farm animals, woodland, safari.
Why we love Holztiger @ J's Rainbows
Chunky & charming
Each animal is truly unique
Natural grain of the wood is still visible
Handcrafted & painted by hand
Painted with non-toxic dyes
Water-based finish makes it easy to wipe clean
Designed to last generations
Leave space for the child's imagination
Other animals & figures not included.
Measures: 75 x 47 x 43.5 cm
Adult assembly may be required. 
Imported from Germany.
Please read description carefully. This listing is only for the 25% deposit.