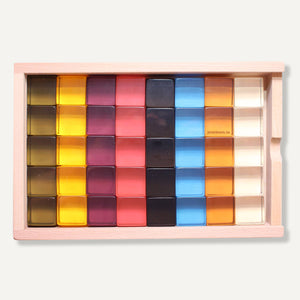 Great for open ended play. If you love the Bauspiel Lucent Cubes, you'll love these variations by Papoose. You'll get a variety of shapes and sizes. Great for building, open-ended play, counting, sorting and more. 

Earth Lucites is the 2nd color way for the Papoose Lucite cubes; 8 colors from our Earthy palette including clear and black. A simple game for the littler ones: take 1 cube out and place the other randomly. Now move the cubes around in the box until the colors are paired together.
Comes in a wooden tray.
Warning: For ages 3 & up. Adult supervision required.
About Papoose
Founded in 1991, Papoose Toys produce natural toys and loose parts for open-ended creative play.
Working with natural materials, production takes place in small communities in Nepal, Sri Lanka and Indonesia. Pure wool felt toys and loose parts are made by hand at fairly traded rates of pay.