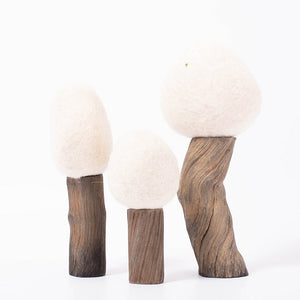 A beautiful 3 piece set of Papoose Earth Trees in winter - featuring a snowy white felted top and a deep walnut colored base. These unique trees have natural liana wood with hand felted tops. The wood is natural and each piece is different. You'll notice that your tree's stump can vary in width and curve. The tops are felted by hand and attached to the wooden base. 
Use this as part of your small world play or to decorate your playroom with other wooden figurines. 
See if you're lucky enough to get a curved tree today.
Dimensions: 16 to 26 cm height.
Made in Melbourne.