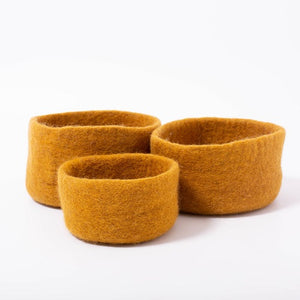 3 piece nesting bowls by Papoose in the perfect mustard color. 

This beautifully handmade set contains 3 sizeable nesting bowls. Perfect for younger babies who are learning to stack. Toddlers learning to fit biggest to smallest. And older kids for imaginative play. Is it a kitchen set for their tea guests? Basket for produce at the market? Or a hat for their friends.
Possibilities are endless.
3 piece set.
Other toys not included.