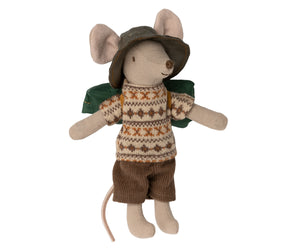 Maileg Big Brother mouse: Hiker Mouse 2023 edition. (2021 edition available here | 2022 edition available here)
Ready for another weekend getaway. This bigger sibling comes prepared. 
Comes with 4 removable accessories: hat, shirt, shorts, rolled up sleeping bag. This year's version comes with an updated white and blue stripe shirt.
Details:
Height: 5" (12.7cm)

Material: Cotton

Filling: Polyester

Body: Naked

Packaging: Tag
Why we love Maileg @ J's Rainbows
Limited edition designs
Perfect fit for little hands
Pairs well with many wooden doll houses
Well made with intricate details
Made to inspire imagination
Recommended for ages 3+