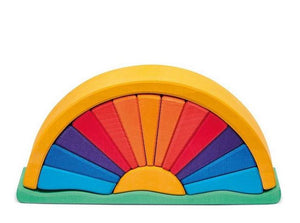 Gluckskafer sunray arch orange includes 16 pieces. 
This set is particularly best for older children who know how to build. The slanted pieces make a great ball run addition. 
The wooden blocks are stained using water-based colors. So in contrast to painting and lacquering the natural grain and texture still shows through. The wooden blocks are made to feel rougher to make the blocks easier to build. Also great for children's tactile sense development. 
Care and cleaning requires only a moist cloth. 
Measures approx. 27 x 7 x 13 cm
For ages 1 + 
Note that this is a natural product and wooden grains and knots are not considers a defect but a unique characteristic of the tree it once was a part of.