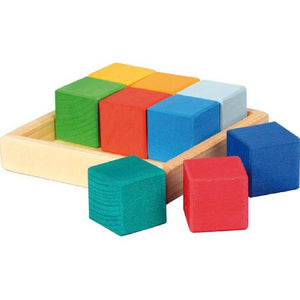 Gluckskafer construction kit comes with 9 pieces.
These cubes are a great starter set for those who want to dip their toes into the Grimm's LSP (Large Stepped Pyramid) or have younger children. The 4 x 4 cms are the size you see in the LSP for the cubes. 
These simple cubes are a hit with younger children as they learn to stack, count - and in our house use as a permanent pretend cake. 
The blocks are great for open ended play and endless building opportunities. The different shapes allow unlimited creativity in all areas. A great way to spark a fascination with making small things big. 
Gluckskafer blocks are coloured with water-based stains that bring out the characteristic of original wood. The surface feels slightly rougher to facilitate construction project - a plus for the child's tactile sense development.
Dimension: 14.5 x 14.5 x 5 cm
Made in Europe.
Please note that wooden toys can contain visible knots, this is a natural characteristic of the wood and is not considered an imperfection. These marks and grains is what makes each wooden toy so unique. Take a moment to closer look at the curves and bends in the wood grain and embrace its natural beauty. Enjoy.
Recommended for ages 1 & up.
Other figures not included.