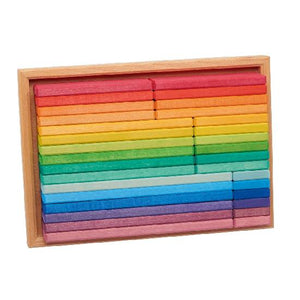 Gluckskafer wood building slats in wooden frame includes 32 pieces. Great for building! The rainbow colors matches well with many of Grimm's rainbow colored toys. 
Gluckskafer blocks are made of high quality basswood/linden coloured with water-based stains that bring out the characteristic of original wood. The surface feels slightly rougher to facilitate construction projects.
Frame measures approximately: 27cm x 19cm and set measures 5cm thick.
SAFETY RATED FOR AGES 2+
Please note that wooden toys can contain visible knots, this is a natural characteristic of the wood and is not considered an imperfection. These marks and grains is what makes each wooden toy so unique. Take a moment to closer look at the curves and bends in the wood grain and embrace it's natural beauty. Enjoy.
Other toys not included.