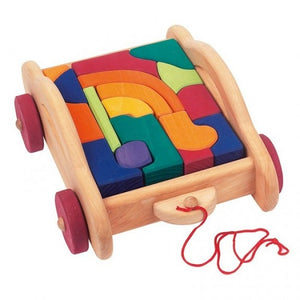 Carriage and block set in 1. Two toys packaged in 1. This block set contains a variety of unique shapes. For younger children, you can introduce several of the larger blocks for grasping and stacking. Older children can start to build and transport their toys in the carriage. The curved pieces make great roads and introduction to rainbow pieces before making a larger investment.
The carriage works great for storing toys, display, transporting toys from shelf to play space - it can even be a transportation device for your Holztiger animals or baby doll. 

This Carriage Block Set includes: 18 pieces - 17 of which are solid wooden blocks. The carriage is made from solid wood with a sturdy construction - and very well smoothed out.
Gluckskafer blocks are coloured with water-based stains that bring out the characteristic of original wood. The surface feels slightly rougher to facilitate construction projects.
Carriage size approximately: 29 x 22 x 13 cm
SAFETY RATED FOR AGES 2+
Please note that wooden toys can contain visible knots, this is a natural characteristic of the wood and is not considered an imperfection. These marks and grains is what makes each wooden toy so unique. Take a moment to closer look at the curves and bends in the wood grain and embrace it's natural beauty. Enjoy.
Other toys not included.